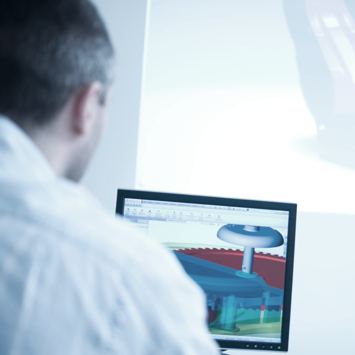 Vocational courses

for schools
CAD/CAM/CAE - Additive Manufacturing - 3D Printing - Reverse Engineering
Tecnologia & Design organises education and training courses for technicians and designers, young graduates, Companies, Concerns, associations and Schools. The courses teach the most innovative computer techniques for design and production, with teaching methods that alternate theory, practice and experimentation.
Vocational courses for schools
Professional courses for schools are organised in collaboration with the Technical Schools and provide knowledge on the use of the main design and CAD/CAM/CAE planning applications in the fields of Mechanics, Footwear and Clothing. They are held mainly during school hours and are updated every year.
CAD/CAM Mechanical Operator
The course supplies the necessary knowledge to use specific CAD/CAM software for mechanical design and planning, developing the following main subjects:
TWO-DIMENSIONAL DRAWING
THREE-DIMENSIONAL PLANNING
SOLIDS AND SURFACES MODELLING
CNC MACHINING WITH UP TO THREE AXES
REVERSE ENGINEERING
RAPID PROTOTYPING & TOOLING
CAD/CAM Footwear Operator
The course supplies the necessary knowledge to use specific CAD/CAM software for the design and planning of footwear, developing the following main subjects:
TWO-DIMENSIONAL DRAWING
THREE-DIMENSIONAL PLANNING
SOLIDS AND SURFACES MODELLING
CNC MACHINING WITH UP TO THREE AXES
REVERSE ENGINEERING
RAPID PROTOTYPING & TOOLING