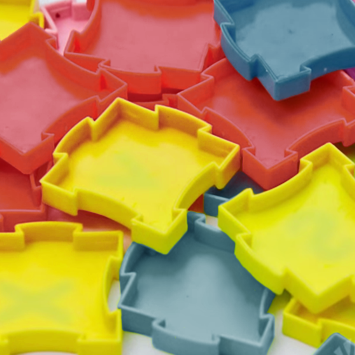 Silicone moulds

for pre-production
Vacuum casting, fast process and optimal finish
Tecnologia & Design specialises in Additive Manufacturing, offering 3D printing services using proven technologies and methods; we have a special department fully equipped with professional tools from the main world manufacturers and provide ideal support for the manufacturing of silicone moulds for pre-production processes.
Silicone moulds for pre-production
The manufacturing of products by replication with silicone moulds makes it possible to create parts and pre-production batches with polyurethane resins that have mechanical and aesthetic characteristics that are very similar to those of the relevant finished product, also thanks to the possibility of using different materials (flexible, transparent, stiff, etc.); pre-production is an excellent way of creating sample for functional, verification and assembly tests and for presentations, trade fairs and events.
During the process, a master model is covered in silicone rubber and placed under vacuum to create the mould. Then the mould is placed in an oven to be cured and the master is removed; the remaining cavity is a perfect replica of the master model.
Master models may have different origins, but they are usually manufactured by stereolithography, although 3D printed model are becoming increasingly popular; the quality of the pieces mostly depends on the precision of the master model.
With the vacuum casting process it is possible to create any objects: industrial components, consumer goods, lenses and many others. Generally a single mould is good for 30-50 pieces, in customised colours, with the first results available in a few hours.
The mission of Tecnologia & Design
Our mission is to support the most innovative manufacturing companies in the various phases of product development, from the concept to the aesthetic and functional prototype and through the design phase and the manufacture of mould for the vacuum casting process. We are a design department at the service of our customers, with highly skilled technicians expert  in digital manufacturing and also thanks to sophisticated 3D CAD software tools and our equipment used for rapid prototyping we create prototypes for your testers by means of 3D printing.  We make suggestions on methods and technology and take every step in close cooperation with the customer.
We operate in many sectors, including the technical footwear, sports equipment, household appliances, automotive, biomedical and furnishing ones.